We're Equipped to Help You Boost Your Health
See our photos for a quick tour of our well-equipped facility! We have the right staff and the right environment to help you achieve your wellness goals safely and at your own pace, based on your health goals.
The Inspirefit team can also visit your home or workplace to help you achieve the same results through expert coaching and fitness training.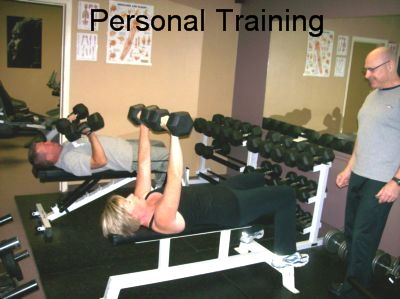 The Landman's 3 Generations of Wellness!
A Professional Testimonial
I have known Richard (president and founder of Inspirefit) for over seven years. I was working toward my Can-Fit-Pro certification for personal trainers. During the early part, I worked closely with Richard in his Inspirefit facility. I found Richard always very helpful in making me understand the basic concepts of personal training. Richard has a rare quality that draws people toward him; his educational background, years of experience and huge knowledge base in fitness make him a huge asset to the fitness industry. Inspirefit is a truly (as the name suggests) inspirational facility for those seeking to reach their goals while living a healthy lifestyle.
– Salem Rao, PhD, PTS, Personal Trainer and Pro Trainer, CanFit Pro
Inspirefit Success Stories
Read some of the journeys of our clients and how our approach has helped them achieve a better sense of wellness and overall health!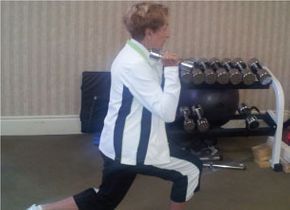 Bridget is a great example of the long-term benefits resulting from a healthy lifestyle. At 89 years of age (you would never guess it), Bridget is now "just hitting her prime," as I like to put it. She maintains a schedule of two resistance training sessions per week and walks almost daily. She also plays golf a couple of times a week, when the weather permits. You will usually find her walking the course! Her nutrition is what I would consider healthy, with plenty of fresh food and very little processed food and sugar. She is also not taking any regular medications. Bridget is also actively helping out in the community seniors' centre, and she is a frequent traveller.
"Good health has always been a priority for me; I would like other seniors to know that our later years don't have to be spent being inactive. I am still enjoying most of the things I have always done, and my physical condition allows me to maintain a busy lifestyle. I do recommend that you speak with your doctor(s) and get the necessary permission and guidelines before beginning an exercise program. It is also very important and advisable to get personal instruction (as I have done) from professionals that are qualified and will work with you safely and effectively, such as certified trainers and nutritionists. I believe that almost all people can improve their conditioning and health with a positive mindset, proper exercise and nutrition… at any age!"
At 20 years of age, just under six feet tall and 280 pounds, Jason Wall was heading in the wrong direction as far as his health was concerned. He was very overweight, felt lethargic much of the time and had back problems to boot! Doing nothing was not an option for Jason; after all, he had his whole life ahead of him. Jason was motivated; he just needed some guidance in order to do things the proper way. Jason discussed his concerns with Rich (owner and lead trainer at Inspirefit). Jason agreed with the philosophy of Inspirefit, where fitness, a healthy lifestyle, small changes and patience led to lifetime gains: "I've seen many people on crazy diets and exercise regimens. They all lose the weight, and they all gain it back. Why? Because they are not making lifestyle changes."
Rich made some tweaks to Jason's nutrition, added some low-to-moderate intensity cardio for 15 minutes a day, and personalized weight training sessions three times per week at moderate intensity. These changes were all very easy for Jason. Jason was feeling much more energetic and healthy. What's more, Jason was dropping fat at a rate of about one pound per week. After six months, Jason had internalized these lifestyle changes. Rich then increased the exercise intensity to a more challenging but still comfortable level.
Exactly 28 months later, Jason is now 180 pounds (100-pound loss) and lost a whopping 14.5″ off his waist! What's more, he has gained muscle tone and strength, he has more energy, and he no longer has back pain! "Exercise, proper nutrition and a healthy lifestyle focus are priorities in my life, there is no other option! Rich at Inspirefit knows his stuff and has the right formula: permanent healthy changes that are easy to maintain, and at the same time are fun. I now look forward to my workouts!"
Jason's patience has paid off. In two years, he has transformed his body and health with changes that will last a lifetime!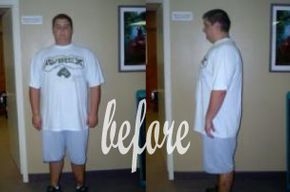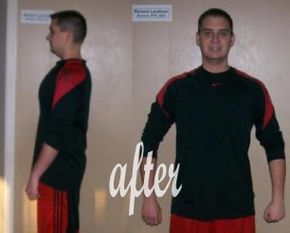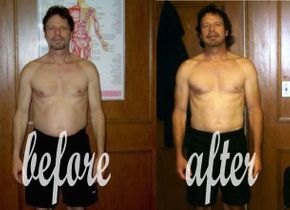 Gord was not what you would consider to be an out-of-shape 53-year-old when he started working with a trainer at Inspirefit four years ago. However, five years ago Gord was a smoker, his concern for nutrition was nonexistent, and exercise sessions were few and far between. On the outside, many people would say that he looked good for his age (maybe some good genetics at play here). Gord knew, however, that his overall health was being compromised by his poor lifestyle habits. Eventually, these bad habits would come back to haunt him if he chose not to make changes.
The first thing he did was quit smoking. He then evaluated his nutrition. He increased his intake of healthy fruits, vegetables and nuts, and fish. He significantly decreased his intake of hydrogenated fats, processed sugars, grains, dairy and chemicals (even down to personal care products).
Gord actually gained two pounds since he started exercising four years ago. This weight increase was the net effect of Gord losing 6 pounds of fat and gaining 8 pounds of muscle. We must also consider that Gord's proportions were not bad to start with and that he is now 57 years of age! The most significant improvement Gord has achieved is his improvement in health and overall well-being. He also has more energy, endurance and strength. Gord is a great example of a successful anti-aging lifestyle change. He is now addicted to his current healthy lifestyle and wouldn't have it any other way!
A Letter from Denis & Heather
Dear Rich,
After three years of attending Inspirefit in Burlington, I am writing to express our thanks to you for changing our lives. As you know we were both on the rather "chubby" side when we first came, and were very unfit and much less healthy than we desired. Your routine and health and fitness plans for us have made an incredible difference to us. Being regular travellers, we can look back on the days of puffing and panting due to carrying luggage in airports and railway stations. Thankfully, those days are over, and we comment regularly to each other how much better we feel now.
I am now 66 (Heather is 59) and I previously had little regard for my personal nutrition and fitness until Heather made the decision that something must be done. It was certainly your slow and methodical fitness routines that virtually changed our whole way of living. This has created a great weight loss to both of us, and also your program has made a major difference to my injured shoulder. The strengthening of my shoulder has made it now virtually pain-free. My constant photographic campaigns over rugged terrain are now a more enjoyable experience, and I regularly think as I am ascending hills that this enjoyment is due to you.
We now realize that as we get older our fitness, strength and balance have to be maintained on a regular basis. This is now of utmost importance to us. Please accept our sincere thanks for changing our lives and also making your fitness routines so much fun.
As you are aware, we are now leaving Canada and heading home to Australia for an indefinite period. I hope that we can find an Australian personal trainer with the same knowledge, inspiration and passion for personal health and fitness that you obviously possess.
Kind regards, Denis & Heather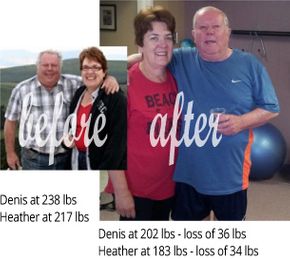 Your Improved Wellness Awaits
Want to add your testimonial or story to the list? The team at Inspirefit is looking forward to meeting you and developing a plan to help you succeed. To find out more or to book a free consultation, contact us.